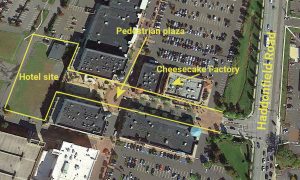 A 140-room, five-story hotel at Cherry Hill Towne Center at Garden State Park has been added to the development plan for the huge retailing and residential complex on the former horse-racing track at Route 70 and Haddonfield Road.
The Cherry Hill Planning Board voted 9-0 Monday night to permit changes in the plan for the hotel and a 5,600-square-foot rooftop bar. Other changes to the property's plans include a retail expansion to accommodate the addition of an Old Navy store and more flexibility for the owner to change use of vacant space from retail to restaurant to medical offices to fitness centers, all depending on demand.
However, a proposal from owner Cherry Hill Towne Center Partners LLC to run a road through an existing pedestrian plaza near the planned hotel drew the ire of some members of the public and one Planning Board member, who sharply criticized how the huge development has turned out compared with the vision of town leaders.
"I feel that what we're getting now is a nightmare and not a dream," board member Marlyn Kalitan said of the Towne Center.
"This was such a beautiful project," Kalitan told the board. "It was our dream project. It was the dream of Cherry Hill to have this wonderful development that was going to have (a) park, recreation and walking trails. Okay I get it, we don't have that."
Kalitan explained that she loves to shop, but she doesn't like shopping in the center. "Every time I pull in, I'm sorry that I did. The traffic patterns are awful and we're just adding more buildings in here and more traffic."
Kalitan and fellow board members Sheila Griffith and Samuel Kates voted against the plan to run a road through the pedestrian plaza. The rest of the board — Tina Truit, Earle Seneres, Carole Roskoph, John S. Osorio, Anne Madden Tufano and Alise Panitch — voted in favor, with the plan passing by a 6-3 vote.
John Taikina, director of real estate development for Piscataway-based M&M Realty Partners, which oversees the site, said adding a road through the plaza would bring life to what he called "desolate" space. Each side of the street on the plaza would have space for restaurants and retailers that "spill out" into the street, he told board members during his testimony.
The plaza ends at an empty lot today, but if a hotel were built it would end at the side of the hotel. The entrance of the hotel would face south, toward Route 70.
Taikina told board members retail space along the plaza is difficult to lease and that a road would add to the pedestrian traffic and make the storefronts more attractive to prospective tenants.
Peter J. Mazza lives on Garden Park Boulevard near the pedestrian plaza and he says he walks through the area nearly every day.
Mazza objected to running a road through the plaza, telling the board the site was intended to be a pedestrian-friendly town center.
"Don't have cars coming down the middle of that. It doesn't make sense to me," he said.
Town resident Paul Petrella of Third Avenue recalled that when the developer received Township permission to substitute a Costco store for the original plan to build a hotel on the west side of Garden State Park, the sentiment was a hotel wasn't needed on the complex.
Petrella said the new site for a hotel is "probably the worst location that I could imagine." He called for not building the hotel there and adding landscaping to what is now an empty lot.
Another resident, Rena Margulis of School Lane, advocated for the owners to continue to limit the plaza, which has a fountain, to pedestrians only. "Would you rather eat next to a fountain or would you rather eat next to a road?" Margulis asked the board. The developer's representatives said during testimony that restaurants opening along the plaza could offer outdoor dining.
Margulis said she was concerned that the developer does not have an agreement with a hotel operator. What happens to that space if there is no hotel, she asked, adding: Could it be used for senior citizen assisted living? Could it be used as a drug rehabilitation center?
The developer has not said what hotel chains are in discussion to open a hotel on the site. When the developer reaches an agreement with a hotel chain, detailed plans would be presented to the Planning Board.
Both Margulis and resident Laura Anne Einhorn of Edgemoor Road called for a new traffic study from the developers that likely would reflect increased volume from the Costco and other development.
Einhorn also asked how the large rooftop bar will affect residential neighborhoods around the development. She said the hotel operator will probably provide music at the bar.
Board member Tufano urged the developer to consider making Cherry Hill "cutting edge" by incorporating the hotel's rooftop bar with a green roof, which is environmentally friendly.
"That's a great suggestion," Taikina said, adding that the roof could use planters to reduce storm water run-off. "If we get our preferred (hotel) brand it certainly is something that will be in their mix. They certainly consider themselves to be on the edge of eco-friendly," he added, without disclosing the hotel chain the developer is targeting.
"It is a great view. It is a spectacular view," Taikina said of his expectations for a bar on the roof of a five-story hotel on the site. "I don't know if you've been to the roof of the parking deck ever but it is a great view," he said.
For more information about Cherry Hill land sites for sale or about any other Cherry Hill properties for sale or lease, please contact WCRE at 215-799-6900.
Wolf Commercial Real Estate, a full-service CORFAC International brokerage and advisory firm, is a premier Cherry Hill commercial real estate broker that provides a full range of Cherry Hill commercial real estate listings and services, property management services, and marketing commercial offices, medical properties, industrial properties, land properties, retail buildings and other Cherry Hill commercial properties for buyers, tenants, investors and sellers.
Please visit our websites for a full listing of Cherry Hill land sites for sale through our Cherry Hill commercial real estate brokerage firm.